Over the years we have developed a range of strategic partners and suppliers each with the same focus on innovation, quality and customer service as ourselves. This approach ensures that the quality of component parts is maintained whilst guaranteeing seamless availability both in terms of trailer assembly and after sales. All the necessary equipment is provided before a project is taken into the production process, giving us the peace-of-mind that the best possible trailer will be done and delivered on-time, without comprimising on quality. 
Every manufacturing process starts with a strict design review which is done by our engineering team. However, after having the design ready, adjustments can be done depending on the costumer's preferences and requirements (length of trailers, number and type of axles..). After that, quotes are formally generated, a lead time is established and a delivery date estimate is provided. This information is based on component availability and line capacity. Once the order acknowledgement is confirmed, the procurement department is instantly notified of any special order parts required for the order. Each trailer arrives on our yard as raw steel and components. The raw materials are quickly processed by our plasma cutters, bending machines, rolling machines or other precision manufacturing devices.
Then our team of highly qualified & trained tradesman, supervised by our engineers begin the assembly process. Our engineers focus on quality control without comprimising lead times by increasing the workforce on a project when deemed necessary.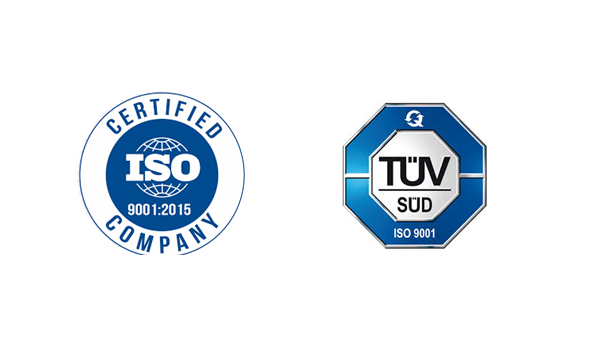 AKYEL Trailer stand for quality and durability. Being a quality-oriented business entity, we have a quality assurance system we strictly adhere to, accredited to ISO 9001: 2015 Quality Management System. All materials used are compatible under EU regulations, as well as EC/WVTA certified.
We endeavor to design, manufacture and develop perfect products and solutions for our customers. Our complete range of products are developed in tandem with set industrial manufacturing guidelines, incorporating top grade materials in our production process. These high quality materials are procured by us from reliable and certified market suppliers. All our products are quality checked and adhere to world-class standards.
We work on the philosophy that the best form of advertisement is 'word of mouth' from our customers. To attain this form of advertising from our customers, we know that customer satisfaction through Quality Assurance and After Sales Support is of the upmost importance, so we alwalys deliver on both fronts. AKYEL trailers are warranted unconditionally under international law and regulations, with unlimited km for 2 years against faulty labour and materials. From the initial idea, to the design, production and complete after-sales services, our customers can rely on AKYEL Trailer and a dedicated partnership.