– AKYEL Trailer manufacture superior quality semi-trailers at competetive prices, in one of the biggest semi-trailer manufacturing countries in the world, Turkey.
– We have over 37 years experience manufacturing semi-trailers, and over 55 years experience in the manufacture of semi- trailer axles and pneumatic brakes.
– The preferred choice of semi-trailer for the transport and logistics industry in Turkey, and plans to be the same in the international arena.

Expert Engineers
The AKYEL family has a long tradition of qualified expert engineers, and only employ the best engineers in the business.

Modern Equipment
We keep up with the times by using advanced equipment and innovative solutions during the production process.
Experienced Workforce
A highly qualified, well trained and experienced workforce and professional management ensures high quality standards.

Marketing Philosophy
We work on the philosophy of  that the best form of advertising is 'word of mouth' coming from our customers.
WHAT MAKES AN AKYEL TRAILER ?
We pride ourselves on delivering semi-trailers that meet the highest quality standards of design, manufacture and finish. We manufacture according to each countries road rules, regulations, laws and any other specific requirements to get our topnotch semi-trailers on the roads all around the world.
Always meeting standards and exceeding expectations of all our customers.
Superior Engineered Quality

Highly Qualified Personnel
2 Year Unconditional Guarantee

Fast Aboveboard Communication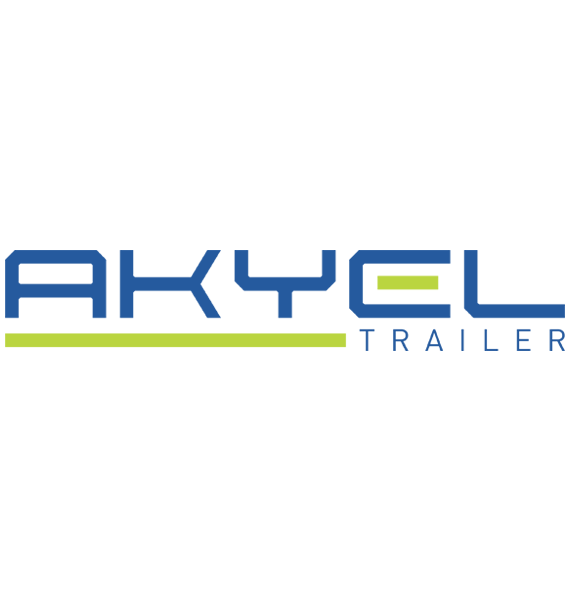 A

Good Quality

Is Not Accidental

Over the years we have developed a range of strategic partners 

Every manufacturing process starts with a strict design review
Our Manufacturing Facility
Located at a strategic location having good road connectivity, our infrastructure comprises of three manufacturing units, design and management center, machine factory and painting studio, and an open park area. With a 600 m2 design and management center, 3600 m2 machine factory, 800 m2 painting studio, a total of 5,000 m2 manufacturing infrastructure, and 10,000 m2 open park area, in total we operate on 15,000 m2 of land.
Occupational Health & Safety
At  AKYEL Trailer we take the safety of our people and product very seriously. We look after the health & safety of our workforce by creating a safe working environment, according to Turkish occupational health and safety rules, regulations and laws. We look after our workforce and they look after our products.
Export & International
Selling, servicing and supporting our products on several continents is a challenge met daily by AKYEL Trailer Export & International division. Our responsive and knowledgeable After Sales Support team and robust parts and service distribution model, empowers your business to succeed, no matter what the location.
Materials Stock
We always have a sufficient stock of raw steel and procured components of our trailers. We also stock most steel parts already processed by our plasma cutters, bending machines, rolling machines or other precision manufacturing devices.
As always, our trailers were delivered as ordered and on time. Thanks for your support in finding solutions for our company and  delivering another great product. I would highly recommend AKYEL Trailer.
Orient Express
We always have high expectations in quality, reliability and after sales service & support of the trailers we purchase. AKYEL Trailer consistantly meets our expectations and have been a great support over the years.
Royal Carpets
A few years ago we were using other semi-trailer manufacturers, until we heard about AKYEL Trailer. As we heard they were very supportive in every way possible, and made a huge difference to our semi-trailer fleet uptime.
Rinak Logistics